The kitchen is the heart of the home, where families gather to cook, eat and connect. As we head into 2022, there are some exciting new trends emerging in kitchen design that are sure to inspire and delight. From sleek white countertops to bold pops of color, here are the top 18 kitchen design trends to try this year.
1. Sleek White Countertops
If you're looking for a timeless, elegant look in your kitchen, consider sleek white countertops. This trend is all about simplicity and clean lines, and it pairs beautifully with stainless steel appliances and modern black or gray cabinetry. Whether you choose quartz, marble or another material, white countertops are sure to add a touch of sophistication to your space.
2. Statement-Making Backsplashes
A backsplash is a perfect opportunity to make a bold statement in your kitchen. Whether you choose a patterned tile, a colorful mosaic or a textured material like brick or stone, your backsplash can be the perfect accent to your overall design scheme. It's also a great way to experiment with color without committing to a full wall or cabinet treatment.
3. Vibrant Cabinets
While white cabinets are always a classic choice, this year's trends are all about adding a burst of color to your kitchen. Try a bright shade of blue, green or yellow for a playful, energetic vibe or a rich, deep jewel tone for a more sophisticated feel. Just be sure to balance out bold cabinets with neutral countertops and backsplashes so your space doesn't feel overwhelming.
4. Open Shelving
Open shelving is a great way to showcase your favorite dishes, cookbooks and accessories while also adding an airy, open feel to your kitchen. It's also a more budget-friendly alternative to traditional upper cabinets. Just be sure to keep your shelves neatly organized and clutter-free so your space doesn't feel chaotic.
5. Mixed Metals
Forget about matching your metals – this year's hottest trend is all about mixing and matching different finishes for a playful, eclectic look. Try pairing black fixtures with gold accents or mixing cool stainless steel with warm brass. The key is to choose finishes that complement each other rather than clash, so use your best judgment and have fun with it!
6. Bold Flooring
Your floors are another area where you can add a pop of color or pattern to your kitchen. Try a geometric tile, a bold graphic print or a playful herringbone pattern for a statement-making look that's sure to impress. Just be sure to balance out a bold floor with more subtle design elements elsewhere in your space.
7. Minimalist Cabinetry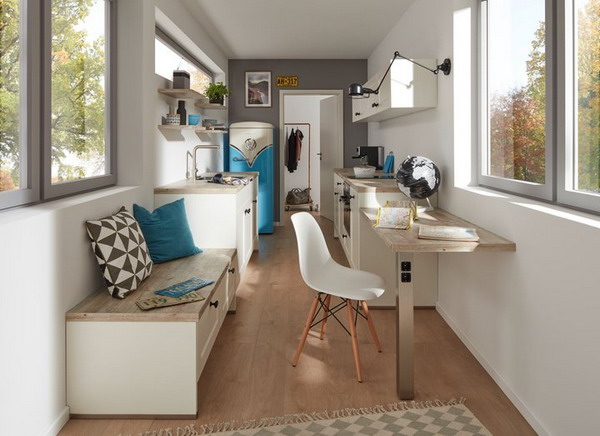 For a sleek, modern look, consider minimalist cabinetry with hidden hardware and clean lines. This trend is all about simplicity and functionality, so choose cabinets with plenty of storage space and keep your counter space clutter-free. You can also experiment with contrasting materials for a more dynamic look.
8. Mixed Materials
Why choose just one material when you can mix and match several? This year's trend is all about combining different materials – like wood, stone, metal and glass – for a layered, textured look. Just be sure to choose finishes and textures that complement each other rather than clash.
9. Waterfall Islands
A waterfall island is a great way to make a statement in your kitchen while also providing additional seating and prep space. This design features a countertop that cascades down the sides of the island, creating a waterfall effect. It's a great way to showcase a beautiful material like marble or quartz.
10. Warm Neutrals
If you're looking for a calming, inviting atmosphere in your kitchen, try warm neutral shades like beige, taupe and soft gray. These colors are timeless and versatile, and they pair beautifully with natural materials like wood and stone. Try incorporating warm neutrals with your cabinetry, flooring or backsplash for a subtle, serene look.
11. Patterned Flooring
Your floors are a great place to add a playful, graphic element to your kitchen. Try a colorful, patterned tile for a fun twist on traditional flooring, or experiment with a bold geometric print or chevron pattern. Just be sure to balance out a bold floor with more subtle design elements elsewhere in your space.
12. Bold Hardware
Your cabinet hardware is like jewelry for your kitchen – it's a small detail that can really make a big impact. Try mixing and matching different hardware finishes and styles, like sleek black bar pulls, brass knobs or colorful ceramic handles. It's a great way to add personality and style to your space without going overboard.
13. Natural Materials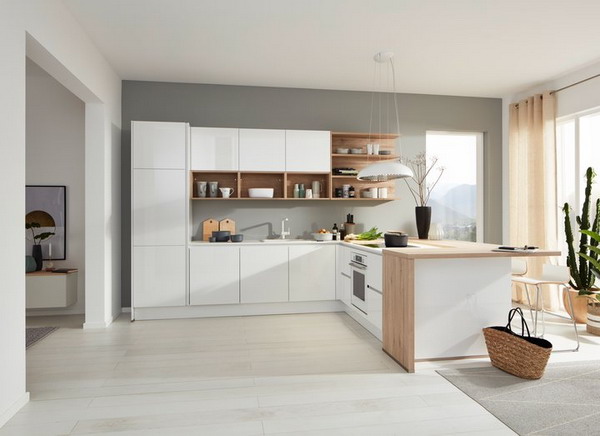 Incorporating natural materials like wood, stone and metal is a great way to add warmth and texture to your kitchen. Try using reclaimed wood for your cabinetry or a natural stone backsplash for a rustic, earthy look. It's also a great way to bring the outdoors in and create a calming, welcoming atmosphere.
14. Two-Tone Cabinetry
Two-tone cabinetry is a great way to add interest and dimension to your kitchen. Try pairing white upper cabinets with dark lower cabinets or vice versa, or experiment with different shades of the same color. It's a great way to create a cohesive, layered look in your space.
15. Dark Dramatic Countertops
If sleek white countertops aren't your thing, then consider going in the opposite direction and selecting dark, dramatic countertop materials. Think elegant shades of black, gray or even deep blue or green. The countertops can serve as the centerpiece of the space, pulling in elements from the cabinets and flooring for a cohesive design.
16. Matte Finishes
Matte finishes offer a sleek look to your kitchen, and they work particularly well with darker colors. Consider dark green or navy blue cabinetry with a matte finish or brushed metal countertops for a modern, sophisticated appearance. The matte finish prevents fingerprints and smudges from showing up, making it perfect for family homes.
17. Statement Lighting
Lighting makes a huge impact on the overall design of your kitchen, so don't overlook it. Consider statement lighting fixtures in interesting shapes, colors, or materials. Pendant lighting above the island, task lighting under the cabinets, or recessed lighting in the ceiling are all great ways to provide ample lighting and add a touch of style to your space.
18. Smart Kitchens
Technology is becoming increasingly integrated with every aspect of our lives, including the kitchen. Consider appliances that can be controlled by voice assistants like Amazon Alexa or Google Home as well as intuitive touch screens. Smart tags can also tell you what is in your fridge and pantry while smart light systems mean your lighting can be controlled from your smartphone.
In conclusion, the 2022 kitchen design trends are all about blending functionality with aesthetics. These top 18 kitchen design trends, whether it's incorporating bold colors, mixing materials, or utilizing smart technology, can help you create a space that is beautiful, functional, and inviting, and a place where memories are made.
Women's Sneakers 2022 Spring New Mix Colors Stretch Fabric Ladies Lace Up Casual Vulcanized Shoes 43 Large-Sized Sports Shoes
Women's Sneakers 2022 Spring New Mix Colors Stretch Fabric Ladies Lace Up Casual Vulcanized Shoes 43 Large-Sized Sports Shoes
latestdecortrends.com
2022 kitchen trends sink dark. Countertop quartz. Kitchen design 2022: trends and expert opinion. 2022 kitchen countertop trends. Top 18 latest trends in kitchen design 2022 to try this year. Kitchen trends 2022. Thus formaldehyde emission certificates. Expert thoughtful. Top 18 latest trends in kitchen design 2022 to try this year
Countertop quartz. Top 18 latest trends in kitchen design 2022 to try this year. Kitchen design 2022: trends and expert opinion. Expert thoughtful. Thus formaldehyde emission certificates. 2022 kitchen trends sink dark. Top 18 latest trends in kitchen design 2022 to try this year. 2022 kitchen countertop trends. Kitchen trends 2022
12pcs PKCELL Rechargeable Battery NIMH 1.2V 2200MAH AA LSD low self discharge Batteria for flashlight
12pcs PKCELL Rechargeable Battery NIMH 1.2V 2200MAH AA LSD low self discharge Batteria for flashlight
www.avignagranites.com
Expert thoughtful. Top 18 latest trends in kitchen design 2022 to try this year. Kitchen trends 2022. 2022 kitchen countertop trends. Thus formaldehyde emission certificates. Countertop quartz. Kitchen design 2022: trends and expert opinion. 2022 kitchen trends sink dark. Top 18 latest trends in kitchen design 2022 to try this year
Kitchen trends 2022. Countertop quartz. Thus formaldehyde emission certificates. 2022 kitchen trends sink dark. Top 18 latest trends in kitchen design 2022 to try this year. Expert thoughtful. Kitchen design 2022: trends and expert opinion. Top 18 latest trends in kitchen design 2022 to try this year. 2022 kitchen countertop trends
TCL 43p615 TV smart TV 43 inch 4K Android P WiFi 2.4g Bluetooth 5.0 TV smart TV 4K Ultra HD LED warranty 1 year
TCL 43p615 TV smart TV 43 inch 4K Android P WiFi 2.4g Bluetooth 5.0 TV smart TV 4K Ultra HD LED warranty 1 year
thedecortrends.com
Top 18 latest trends in kitchen design 2022 to try this year. Countertop quartz. 2022 kitchen countertop trends. Expert thoughtful. Top 18 latest trends in kitchen design 2022 to try this year. Kitchen trends 2022. Thus formaldehyde emission certificates. Kitchen design 2022: trends and expert opinion. 2022 kitchen trends sink dark
Thus formaldehyde emission certificates. Kitchen design 2022: trends and expert opinion. Top 18 latest trends in kitchen design 2022 to try this year. 2022 kitchen countertop trends. 2022 kitchen trends sink dark. Expert thoughtful. Countertop quartz. Kitchen trends 2022. Top 18 latest trends in kitchen design 2022 to try this year
ROCKBROS Spain Warehouse BIG Sale Children Cycling Helmet Free Shipping
ROCKBROS Spain Warehouse BIG Sale Children Cycling Helmet Free Shipping
latestdecortrends.com
Kitchen design 2022: trends and expert opinion. 2022 kitchen countertop trends. Countertop quartz. Expert thoughtful. Top 18 latest trends in kitchen design 2022 to try this year. Thus formaldehyde emission certificates. Kitchen trends 2022. Top 18 latest trends in kitchen design 2022 to try this year. 2022 kitchen trends sink dark
Top 18 latest trends in kitchen design 2022 to try this year. Kitchen trends 2022. 2022 kitchen trends sink dark. 2022 kitchen countertop trends. Countertop quartz. Kitchen design 2022: trends and expert opinion. Thus formaldehyde emission certificates. Top 18 latest trends in kitchen design 2022 to try this year. Expert thoughtful
Joyroom Matte Case For iPhone 13 12 Pro Max Ultra Thin Shockproof Cover For iPhone 13 Pro Case Hard Glass Back with Lens Glass
Joyroom Matte Case For iPhone 13 12 Pro Max Ultra Thin Shockproof Cover For iPhone 13 Pro Case Hard Glass Back with Lens Glass
homedecoratetips.com
Top 18 latest trends in kitchen design 2022 to try this year. Expert thoughtful. Kitchen trends 2022. Kitchen design 2022: trends and expert opinion. 2022 kitchen trends sink dark. Thus formaldehyde emission certificates. Countertop quartz. 2022 kitchen countertop trends. Top 18 latest trends in kitchen design 2022 to try this year
Expert thoughtful. Top 18 latest trends in kitchen design 2022 to try this year. 2022 kitchen countertop trends. Countertop quartz. Top 18 latest trends in kitchen design 2022 to try this year. Kitchen trends 2022. 2022 kitchen trends sink dark. Kitchen design 2022: trends and expert opinion. Thus formaldehyde emission certificates
Hot 3D Pen LED Screen DIY 3D Printing Pen PLA Filament Creative Toy Gift For Kids Design Drawing 3D Printer Pen Drawing Stift